Sincere Metal Works is your comprehensive sculptural, architectural, decorative, and custom foundry and fabrication resource.
From conception to completion, and anything in between, we work with our clients to produce unique and exceptional pieces using a wide range of materials and processes. Practical knowledge, technical skill, and absolute artistic integrity combine as the drive behind everything we create.
How can we work together?
We offer a variety of services including mold making, wax working, metal casting, metal finishing, patinas, fabrication, design, and more…
We're all moths to the flame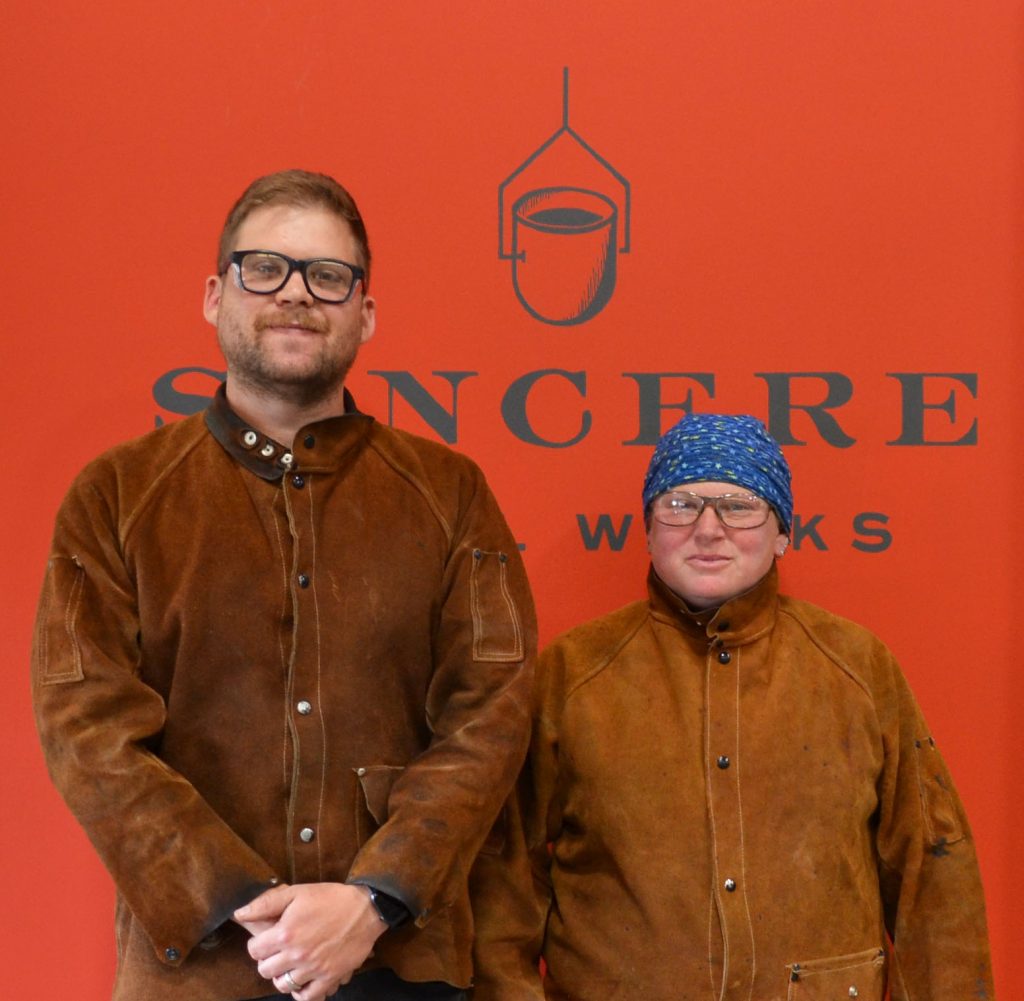 Sincere Metal Works was created in 2015, by owner and founder Dan Kendall, and Manager of Operations Marjee Levine, both of whom have extensive experience in the foundry and metal fabrication industries. Since then we have assembled a team of the best in the business – the brightest and most talented people we know, with a drive to create work of the highest standard and quality. We pride ourselves on communication, attention to detail, problem solving, inventiveness, and an obsessive dedication to our craft. 
Check out our portfolio to learn more about some of our favorite projects.
Sign up for our Email List
Shop updates, artist showcases, events, project unveilings and more!
I have loved working with Dan, Marjee, and the crew at Sincere Metal Works. They have always worked with me to achieve my sculpture goals, whether it be casting, welding, or patination. Their expertise extends beyond art into design and architecture. No job is too big, or too small. Their level of service is extraordinary and I anticipate many more projects in our future. I have and will recommend their services to anyone looking to complete a custom metal project.
Knowledge of the casting process is invaluable to the sculptor, and the team at Sincere Metal Works communicates clearly and effectively the subtleties of the process, empowering the Artist to better prepare their sculptures for the best possible casting results. Sincere Metal Works' wealth of knowledge allows them to solve any problem that arises, leaving you and your work of Art in safe competent hands.
The folks at Sincere Metal works are passionate about their craft. They revel in the difficult and never-before-created works of bronze and metal. They will work with you to find the very best methods to give you the results you need for your work. I highly recommend them!! At Sincere, they want your project to come out the way you want it to. And they have the know-how, patience and expertise to get you there.
I have been using sincere metal works since its inception. their particular attention to detail and professionalism is so unusual - attributes which distinctly enhance my work. I am fussy about quality, and the staff at sincere more than satisfies my demands.
Dan Kendall and Marjee Levine have assembled an immensely gifted and resourceful team. Boston needs this kind of foundry, multi purposed and highly inventive. sculptors need to dream large and this facility makes it possible.
Dan Kendall and the entire team at sincere metal works do an excellent job. Their customer service, professionalism, and quality of work surpasses our expectations. we love having the opportunity to work with them, because we know the job will be done right and on time!
The team at Sincere Metal Works is amazing. Their experience, professionalism, friendliness, and artistic attention to detail make them wonderful to work with. I am always confident that they will treat my work as if it were their own. Trust is so important when handing over a project that is literally destroyed and remade by a crew of people. I trust Sincere Metal Works with my hours, days, and months of hard work. I highly recommend them to any artist or maker - They are the best.
Before working with Sincere, I would be hesitant to hand over an artwork to someone else to cast. After our first few projects, I realized not only does the team maintain my work as I've delivered it to them, but their high quality bronze work and mounting adds incredible value to my pieces. I can work along side the team durning production, overseeing the process and making changes if necessary during the fabrication. As an artist this is important, and not all foundries are so "open door." I also love that I can go to dan with any "problem," a complicated composition or structural challenge, and he will approach the project with optimism and intelligent solutions."
From start to finish we're here to help!
initial consultation
Have a question? Curious about a project? Need a quote? Give us a call or send us an email! We will clearly explain your options and talk through every detail.